Welcome
to Houston, the largest (and some say the most culturally diverse)
city in Texas and seat of Harris County,located in the southeast part
of the state near the Gulf of Mexico.
Our Web site represents
many theatres and performing arts groups outside Houston's Re known Theatre
District.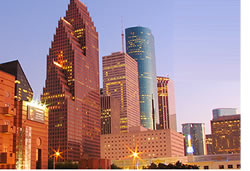 *Houston
is one of the few U.S. cities with resident companies in theater, ballet,
symphony and opera, with exciting performances all season long. Houstonians
receive an extra artistic bonus since two or more of the entities often
perform together, resulting in an even more phenomenal production.
Houston boasts proudly
of its award-winning and internationally acclaimed performing arts groups
and invites newcomers as well as all area residents to enjoy the excitement
of a symphony, the grace of a ballet, the passion of an opera and the
emotion of a dramatic performance.
Located downtown,
the 17-block Theater District is home to eight performing arts organizations
and more than 12,000 seats. Only New York City has more seats concentrated
in one geographic area. Throughout Houston, a growing number of venues
make performances easily accessible.
Houston also shows
its devotion to the arts through a full complement of art museums and
critically acclaimed galleries. Almost midway between Reliant Stadium
and downtown, Houston's Museum District offers a range of museums, galleries,
and art and cultural institutions, including the City's major museums.
Approximately 4 million people visit institutions in the Museum District
every year. Spend a day in the Museum District and be inspired.



View pictures of the theatre district HERE:
Visit
the official HOUSTON THEATRE DISTRICT PAGE HERE



A
few famous Performing artists and Film Houstonians:






*Selected famous natives and residents:



Debbie Allen choreographer;

Allen Drury novelist;

Shelly Duvall actress;

Howard Hughes industrialist and film producer;

Barbara C. Jordan educator, lawyer, and politician;

Barbara Mandrell singer;

Annette O'Toole actress;

Dennis and Randy Quaid actors;

Kenny Rogers singer;

Patrick Swayze actor and dancer.(did you know patrick was a respected
ballet dancer?)





*Info shttp://www.infoplease.com/


MORE Houston Facts :



• Houston is the fourth most populous city in the

nation (trailing only New York, Los Angeles and Chicago), and is the largest
in the southern U.S. and Texas.

• The Houston-Galveston-Brazoria Consolidated Metropolitan Statistical
Area (Houston CMSA) consists of eight counties: Brazoria, Chambers, Fort
Bend, Galveston, Harris, Liberty, Montgomery and Waller.

• Founded in 1836, the City of Houston has



*City Population (year 2000): 1,953,631, Est. population in July 2004:
2,012,626 (+3.0% change)

Males: 975,551 (49.9%),

Females: 978,080 (50.1%)

County: Harris

Land area: 579.4 square miles

Median resident
age: 30.9 years

Median household income: $36,616 (year 2000)

Median house value: $79,300 (year 2000)
• The metro
area's population of 4.8 million is 10th largest among U.S. metropolitan
statistical areas.

• The Houston CMSA covers 8,778 square miles, an area slightly smaller
than Massachusetts but larger than New Jersey.

• Houston's latitude is 29 degrees 58 minutes north and its longitude
is 95 degrees 21 minutes west

• Each year more than 38 million people zip in and out of Houston's
two major airports.

• Houstonians eat out more than residents of any other city. While
here you can choose to indulge in one of the more than 11,000 restaurants
ranging from award-winning and upscale to memorable deli shops.

• Houston has a Theater District second only to New York City with
its concentration of seats in one geographic area. Located downtown, the
17-block Theater District is home to eight performing arts organizations
with more than 12,000 seats.

• Houston has a unique museum district offering a range of museums,
galleries, art and cultural institutions, including the City's major museums.


• Houston has more than 500 cultural, visual and performing arts
organizations, 90 of which are devoted to multicultural and minority arts.


• More than 90 languages are spoken throughout the Houston area.

• Houston has professional teams representing every major sport.


• Houston is home to the Houston Livestock Show and Rodeo. The largest
rodeo in the world, it attracts more than 1.8 million visitors each year.


• Houston has a young population; 37 percent of Houstonians are
24 years old or younger and 34 percent are between the ages of 25 and
44.

• Houston boasts more than 40 colleges, university and institutions
- offering higher education options to suit all interests.

• Houston is home to the Texas Medical Center, the largest medical
center in the world, with a local economic impact of $10 billion. More
than 52,000 people work within its facilities, which encompass 21 million
square feet. Altogether 4.8 million patients visit them each year.

• For Houstonians, 2000 was a banner year economically. Employment
growth was 3 percent, or 63,000 new jobs. Per capita income rose 5 percent.


• Home to 18 Fortune 500 companies and more than 5,000 energy related
firms, Houston is considered by many as the Energy Capital of the world.


• The Port of Houston ranks as the nation's largest port in international
tonnage and second in total tonnage.

• Houston has the most affordable housing of 10 most populated metropolitan
areas; Houston housing costs are 39 percent below the average of 26 U.S.
urban populations of more than 1.5 million.



Houston has the second lowest cost of living among major American cities.


* Facts list source Houston
Texas City
--------
It's our opinion that
Houston has a strong future. That is, as long as all the artists Don't
move away!
Vie some of our Partner
websites to learn about Houston and be sure to visit both our
theatre
directory, our arts
biz directory and our web
links section too!


---
The comments are owned by the poster. We aren't responsible for their content.